Biography of
Rupert Brooke

Rupert Chawner Brooke
August 3, 1887 – April 23, 1915
Rupert Chawner Brooke (August 3, 1887 – April 23, 1915) was an English poet known for his idealistic War Sonnets written during the First World War (especially The Soldier), as well as for his poetry written outside of war, especially The Old Vicarage, Grantchester and The Great Lover. He was also known for his boyish good looks, which prompted the Irish poet William Butler Yeats to describe him as "the handsomest young man in England".
Brooke was born at 5 Hillmorton Road in Rugby, Warwickshire, England, the son of a William Parker Brooke, a Rugby schoolmaster and Ruth Mary Brooke née Cotterill. He attended Hillbrow Prep School before being educated at Rugby School. While travelling in Europe, he prepared a thesis entitled "John Webster and the Elizabethan Drama", which won him a scholarship to King's College, Cambridge, where he became a member of the Cambridge Apostles, helped found the Marlowe Society drama club and acted in plays including the Cambridge Greek Play. Brooke made friends among the Bloomsbury group of writers, some of whom admired his talent, while others were more impressed by his good looks. Brooke belonged to another literary group known as the Georgian Poets, and was the most important of the Dymock poets, associated with the Gloucestershire village of Dymock, where he spent some time before the war. He also lived in the Old Vicarage, Grantchester (a house later bought by Jeffrey Archer)
Brooke suffered from a severe emotional crisis in 1913, some say caused by sexual confusion and jealousy, resulting in the breakdown of his long relationship with Ka Cox. Intrigue by both Virginia Woolf and Lytton Strachey is said to have played a part in Brooke's nervous collapse and subsequent rehabilitation trips to Germany.
As part of his recuperation Brooke toured the United States and Canada to write travel diaries for the Westminster Gazette and visited several islands in the South Seas. It was later revealed that he may have fathered a daughter with a Tahitian woman (Taatamata) with whom he seems to have enjoyed his most complete emotional relationship[citation needed]. He was also romantically involved with the actress Cathleen Nesbitt. Brooke was once engaged to Noel Olivier, whom he met while she was a 15-year-old at the progressive Bedales School.
His accomplished poetry gained many enthusiasts and followers and he was taken up by Edward Marsh, who brought him to the attention of Winston Churchill, then First Lord of the Admiralty. He was commissioned into the Navy shortly after his 27th birthday and took part in the Royal Naval Division's Antwerp expedition in October 1914. He sailed with the British Mediterranean Expeditionary Force on 28 February 1915 but developed septic pneumonia from an infected mosquito bite. He died at on 23 April 1915 off the island of Lemnos in the Aegean on his way to a battle at Gallipoli. As the expeditionary force had orders to depart immediately, he was buried at in an olive grove on the island of Skyros, Greece. His grave remains there today, the site was chosen by his close friend, William Denis Browne, who wrote of Brooke's death:
"...I sat with Rupert. At he became weaker, and at 4.46 he died, with the sun shining all round his cabin, and the cool sea-breeze blowing through the door and the shaded windows. No one could have wished for a quieter or a calmer end than in that lovely bay, shielded by the mountains and fragrant with sage and thyme."
Rupert Brooke's brother, 2nd Lt. William Alfred Cotterill Brooke was a member of the 8th Battalion London Regiment (Post Office Rifles) and was killed in action near Le Rutoire Farm on the historic Loos battlefield on 14 June 1915, aged 24. He is buried in Fosse 7 Military Cemetery (Quality Street), Mazingarbe, Pas de Calais, France. He had only joined the battalion on 25 May
IV 'The Dead' by Rupert Brooke
White Poppy Meditation for World Peace
Cardiff Theosophical Order of Service
206 Newport Road,
Cardiff, Wales, UK, CF24 -1DL
Try these links for
more info about Theosophy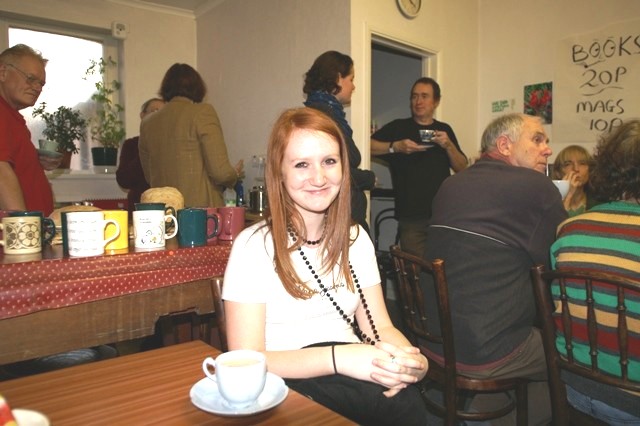 Cardiff Theosophical Society meetings are informal
and there's always a cup of tea afterwards
The Cardiff Theosophical Society Website
The National Wales Theosophy Website
Theosophy Cardiff's Instant Guide to Theosophy
Theosophy Cardiff's Gallery of Great Theosophists
Dave's Streetwise Theosophy Boards
The Theosophy Website that welcomes
If you run a Theosophy Study Group, please
feel free to use any material on this Website
This is for everybody not just people in Wales
Independent Theosophy Blog
One liners and quick explanations
About aspects of Theosophy
The Voice of the Silence Website
An Independent Theosophical Republic
Links to Free Online Theosophy 
Study Resources; Courses, Writings, 
The main criteria for the inclusion of
links on this site is that they have some
relationship (however tenuous) to Theosophy
and are lightweight, amusing or entertaining.
Topics include Quantum Theory and Socks,
Dick Dastardly and Legendary Blues Singers.
An entertaining introduction to Theosophy
It's all "water under the bridge" but everything you do
makes an imprint on the Space-Time Continuum.
A selection of articles on Reincarnation
Provided in response to the large number
of enquiries we receive on this subject
Within the British Isles, The Adyar Theosophical Society has Groups in;
Bangor*Basingstoke*Billericay*Birmingham*Blackburn*Bolton*Bournemouth
Bradford*Bristol*Camberley*Cardiff*Chester*Conwy*Coventry*Dundee*Edinburgh
Folkstone*Glasgow*Grimsby*Inverness*Isle of Man*Lancaster*Leeds*Leicester
Letchworth*London*Manchester*Merseyside*Middlesborough*Newcastle upon Tyne
North Devon*Northampton*Northern Ireland*Norwich*Nottingham
Perth*Republic of Ireland*Sidmouth*Southport*Sussex*Swansea*Torbay
Tunbridge Wells*Wallasey*Warrington*Wembley*Winchester*Worthing
No Aardvarks were harmed in the
The Spiritual Home of Urban Theosophy
The Earth Base for Evolutionary Theosophy
____________________________________
A B C D EFG H IJ KL M N OP QR S T UV WXYZ
Complete Theosophical Glossary in Plain Text Format
1.22MB
___________________________
Classic Introductory Theosophy Text
A Text Book of Theosophy By C W Leadbeater
What Theosophy Is  From the Absolute to Man
The Formation of a Solar System  The Evolution of Life
The Constitution of Man  After Death  Reincarnation
The Purpose of Life  The Planetary Chains
The Result of Theosophical Study
_____________________
Preface to the American Edition    Introduction
Occultism and its Adepts    The Theosophical Society
First Occult Experiences   Teachings of Occult Philosophy
Later Occult Phenomena    Appendix
Preface    Theosophy and the Masters    General Principles
The Earth Chain    Body and Astral Body    Kama – Desire
Manas    Of Reincarnation    Reincarnation Continued
Karma    Kama Loka    Devachan    Cycles
Arguments Supporting Reincarnation
Differentiation Of Species Missing Links
Psychic Laws, Forces, and Phenomena
Psychic Phenomena and Spiritualism
Try these if you are looking for a
local Theosophy Group or Centre
UK Listing of Theosophical Groups

General pages about Wales, Welsh History
and The History of Theosophy in Wales
Wales is a Principality within the United Kingdom
and has an eastern border with England.
The land area is just over 8,000 square miles.
Snowdon in North Wales is the highest mountain at 3,650 feet.
The coastline is almost 750 miles long.
 The population of Wales as at the 2001 census is 2,946,200.
.