Theosophical Society, Cardiff Lodge
206 Newport Road,
Cardiff, Wales, UK, CF24 1DL
Biography of
Wilfred Owen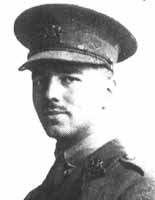 Wilfred Edward Salter Owen MC
(March 18, 1893 – November 4, 1918)
Wilfred Edward Salter Owen MC was a British poet and soldier, regarded by many as the leading poet of the First World War. His shocking, realistic war poetry on the horrors of trench and gas warfare was heavily influenced by his friend Siegfried Sassoon and sat in stark contrast to both the public perception of war at the time, and to the confidently patriotic verse written earlier by war poets such as Rupert Brooke. Some of his best-known works—most of which were published posthumously—include Dulce Et Decorum Est, Anthem for Doomed Youth, Futility, and Strange Meeting. His preface intended for a book of poems to be published in 1919 contains numerous well-known phrases, especially 'War, and the pity of War', and 'the Poetry is in the pity'.
He is perhaps just as well-known for having been killed in action at the Sambre-Oise Canal just a week before the war ended, causing news of his death to reach home as the town's church bells declared peace.
Owen was born the eldest of four children at Plas Wilmot, a house near Oswestry in Shropshire on 18 March 1893 of mixed English and Welsh ancestry. At that time, his parents, Thomas and Susan Owen, lived in a comfortable house owned by his grandfather, but, on his death in 1897, the family was forced to move to lodgings in the back streets of Birkenhead. He was educated at the Birkenhead Institute and at Shrewsbury Technical School, and discovered his vocation in 1903 or 1904 during a holiday spent in Cheshire. Owen was raised as an Anglican of the evangelical school. His early influences included John Keats, and, as with many other writers of the time, the Bible.
Shortly after leaving school in 1911, Owen passed the matriculation exam for the University of London, but not with the first-class honours needed for a scholarship (his studies suffered as Owen mourned the loss of his uncle and role model, Edgar Hilton, to a hunting accident). In return for free lodging and some tuition for the entrance exam, Owen worked as lay assistant to the Vicar of Dunsden and as a pupil-teacher at Wyle Cop School. He then attended botany and—later, at the urging of the head of the English Department—free Old English classes at University College, Reading (now the University of Reading), and later failed to win a scholarship she also urged him to sit there. Prior to the outbreak of World War I, he worked as a private tutor teaching English and French at the Berlitz School of Languages in Bordeaux, France.
On 21 October 1915, he enlisted in the Artists' Rifles. For the next seven months, he trained at Hare Hall Camp in Essex. In January 1917 he was commissioned as a second lieutenant with The Manchester Regiment. Owen started the war as a cheerful and optimistic man, but he soon changed forever. After traumatic experiences, which included leading his platoon into battle and getting trapped for three days in a shell-hole, Owen was diagnosed as suffering from shell shock and sent to Craiglockhart War Hospital in Edinburgh for treatment. It was whilst recuperating at Craiglockhart that he was to meet fellow poet Siegfried Sassoon, an encounter which was to transform Owen's life.
After a period of convalescence in Scotland, he returned to light regimental duties. In March 1918, he was posted to the Northern Command Depot at Ripon. [2] A number of poems were composed in Ripon, including "Futility" and "Strange Meeting". His 25th birthday was spent quietly in Ripon Cathedral.
After returning to the front, Owen led units of the Second Manchesters on 1 October 1918 to storm a number of enemy strongpoints near the village of Joncourt. He was killed in action on 4 November 1918, only one week before the end of the war. For his courage and leadership in the Joncourt action, he was posthumously awarded the Military Cross.
Owen is regarded by some as the leading poet of the First World War, known for his war poetry on the horrors of trench and gas warfare. His great friend, the contemporary poet Siegfried Sassoon had a profound effect on Owen's poetic voice, and Owen's most famous poems (Dulce et Decorum Est and Anthem for Doomed Youth) show direct results of Sassoon's influence. Manuscript copies of the poems survive, annotated in Sassoon's handwriting. Owen's poetry would eventually be more widely acclaimed than that of his mentor. While his use of pararhyme, with its heavy reliance on consonance, was both innovative and, in some of his works, quite brilliant, he was not the only poet at the time to utilize these particular techniques. He was, however, one of the first to experiment with it extensively.
As for his poetry itself, it underwent significant changes in 1917. As a part of his therapy at Craiglockhart, Owen's doctor, Arthur Brock, encouraged Owen to translate his experiences, specifically the experiences he relived in his dreams, into poetry. Sassoon, who was becoming influenced by Freudian psychoanalysis, aided him here, showing Owen through example what poetry could do. Sassoon's use of satire influenced Owen, who tried his hand at writing "in Sassoon's style." Further, the content of Owen's verse was undeniably changed by his work with Sassoon. Sassoon's emphasis on realism and 'writing from experience' was not exactly unheard of to Owen, but it was not a style of which he had previously made use--his earlier body of work consists primarily of light-hearted sonnets. Sassoon himself contributed to this growth in Owen by his strong promotion of Owen's poetry, both before and after Owen's death: Sassoon was one of Owen's first editors. Nevertheless, Owen's poetry is quite distinctive, and he is generally considered a greater poet than Sassoon.
Thousands of poems were published during the war, but very few of them had the benefit of such strong patronage, and it is as a result of Sassoon's influence, as well as support from Edith Sitwell and the editing of his poems into a new anthology in 1931 by Edmund Blunden that ensured his popularity, coupled with a revival of interest in his poetry in the 1960s which plucked him out of a relatively exclusive readership into the public eye.
Though he had plans for a volume of verse, for which he had written a "Preface," few realize that he never saw his own work published, apart from those poems he included in The Hydra, the magazine he edited at the Craiglockhart War Hospital.
Theosophical Society, Cardiff Lodge
206 Newport Road,
Cardiff, Wales, UK, CF24 1DL
For more info on Theosophy
Try these
Dave's Streetwise Theosophy Boards
This is for everybody not just people in Wales
Cardiff Lodge's Instant Guide to Theosophy
One Liners & Quick Explanations
The Most Basic Theosophy Website in the Universe
If you run a Theosophy Group you can use
this as an introductory handout
The Spiritual Home of Urban Theosophy
The Earth Base for Evolutionary Theosophy
Try these if you are looking for a
local Theosophy Group or Centre
UK Listing of Theosophical Groups
Worldwide Directory of Theosophical Links